Arthur Ashe Stadium Upgrade: Rain or Shine at the US Open
As the 2016 US Open at the Arthur Ashe Stadium approaches in the next 2 weeks, attendees and players are excited for the new roof upgrades that have been made to one of the largest and iconic tennis venues in the world. The $150 million renovation has come with a steel retractable 270,400 square-foot roof. The lack of covering during past US Open matches proved to be a problem, causing postponements and tightly scheduled matches. From 2008-2012, the men's singles finals at the US Open had to be pushed from Sunday to Monday to avoid poor weather conditions. The updates that have been made to the Arthur Ashe Stadium now give US Open officials the ability to control a crucial variable by maintaining the conditions during the tennis matches.
After three years of plans and execution, the Arthur Ashe retractable roof has been put to the test, demonstrating that when bad weather persists it takes less than six minutes to close the structure and shield attendees from Mother Nature. As well as the steel roof, a cooling system has been added so the heat and humidity can be controlled once the roof has been closed. Another addition is the fabric that is stretched across the roof so as to add the benefit of shade for parts of the stadium. The start of the US Open on August 29th will be ready for the Arthur Ashe Stadium's new look, and have for the first time the reassurance that key games will not be rained out.
Arthur Ashe Stadium Now & Then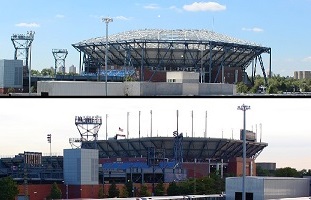 Click here for US Open Tickets
Comments
comments